As a way to commemorate this special day, we will be highlighting some of the most talented Indigenous designers from all over the world, as well as sharing some fascinating research conducted by the University of Newcastle that focuses on things that should be kept in mind when designing websites for Indigenous people.
However, before…
Did It Cross Your Mind?
When compared to their non-Indigenous counterparts, employed Indigenous peoples make up 47% of the world's total population but just 17% of the workforce. The gender disparity is considerably more pronounced in this regard.
Indigenous peoples make up just 5% of the total population of the planet yet are responsible for 15% of its most acute poverty.
More than 86% of Indigenous peoples throughout the world are employed in the unofficial sector of the economy, while only 66% of their non-Indigenous counterparts are employed in this sector.
There is indigenous rock art in Australia that dates back more than 30,000 years, making it some of the oldest rock art in the world. Some of this rock art may be found in caves and rock shelters.
Indigenous Design Study: Design Issues
Identifying Cultural Design Requirements for an Australian Indigenous Website is the title of a study that was conducted by the University of Newcastle. The purpose of the study was to investigate the essential characteristics of websites that are constructed with the needs of Indigenous communities in mind. The focus of the article is on developing a website for the Wollotuka community; however, it also compiles a large number of additional research and insights that have broader applicability.
It begins by providing a concise summary of the design challenges that, among other things, might prohibit websites from being accessible to Indigenous groups.
Learnability may be negatively impacted by the use of visuals (sceneries, persons, architecture, and traditions) that are not from the target region (Barber & Badre 1998).
Icons that are thought to be worldwide are not always recognized all over the world (Brugger 1990).
The ways in which various cultures depict things like time, numerals, and dates are culturally specific (Callahan 2005; del Galdo 1990).
The use of icons rather than words for navigation may have different effects on rates of error and the amount of time needed to complete tasks depending on culture (Choong & Salvendy 1998).
It may also be difficult to translate the text of the menus, boxes, and icons due to the fact that the length of words differs from language to language (Dray, 1996).
Indigenous Design Study: Tips for Indigenous Web Design
The same research compiles a list of guidelines and recommendations for making online design as welcoming and accessible to members of Indigenous communities as is practicable, for instance:
Any attempt to convey Aboriginal knowledge has to address the defining traits and cultural practices of the people (Pumpa et al. 2006). This includes activities that have been carried on for generations, such as music and dance.
Because the environment plays such a significant part in the tales told by Australia's Indigenous people (Turner 2006), this theme may also play a significant role in the design of digital environments.
Images of familiar, tangible objects that are known and liked by the audience serve as the primary communication mechanism and are also a text in and of themselves. The use of local photos and images of people is really necessary (Williams 2002).
It is recommended to use navigation based on visuals rather than navigation tied to words (Williams 2002).
Instead of text-based settings, provide ones that are rich in multimedia and combine a variety of audio and visual approaches to encourage users to make use of them. (Fischer 1995, Buchtmann 1999).
There are 8 indigenous designers and design agencies that are just great.
Obviously, the work of each designer is one of a kind, and there are many dazzling instances of Indigenous design all throughout the world. On the other hand, we have included a list of several designers as well as design organizations who have captured our attention in recent times. Please add to the list in the comments section below if you can think of anybody else who should be included on it.
Productions handled by Maaiingan
Maaiingan Productions is an advertising and graphic design company with locations in Toronto and the Wasauksing First Nation in Ontario. The company specializes in graphic design, web development, video production, and photography, with a particular emphasis on identity and brand building.
The team has previous expertise working with First Nation communities as well as Métis communities, namely in the areas of community engagement, facilitation, and strategic planning. Their work includes designing the website for the Chiefs of Ontario Education portal, which has iconography and colors that are pertinent to the project (as pictured).
The position of Darby Raymond-Overstreet.
Darby Raymond-Overstreet, an accomplished Indigenous artist and printer, was born in Tuba City, Arizona, but reared in Flagstaff. He received several accolades for his work.
She notes that working with patterns is the most enlightening approach for her to explore and extend her knowledge of the universe, and that it is the manner she has found the greatest success in doing so. The question of who one is is addressed in much of her work.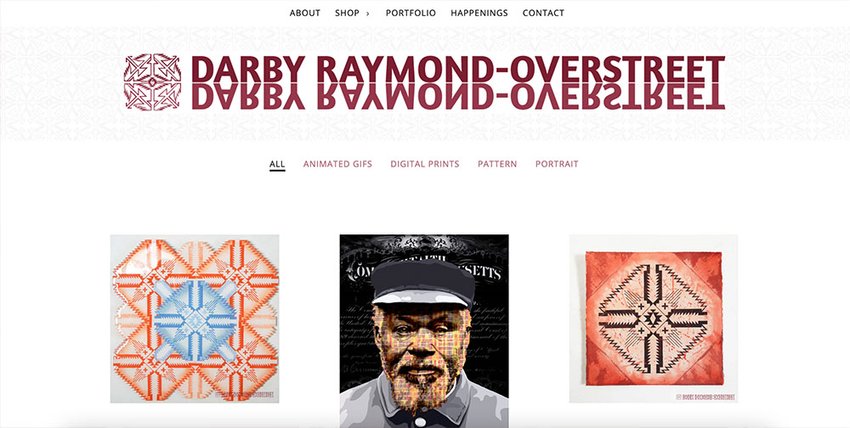 Katie Wilhelm
Based in Ontario, Katie Wilhelm is an award-winning Indigenous artist, designer, and marketing consultant.
With website design being one aspect of her wide remit, she created the Nokee Kwe website design and brand strategy, which means "Working Woman" in Anishinaabemowin. The organization assists Indigenous and non-Indigenous youth in the surrounding community with employment, training, and transitional training.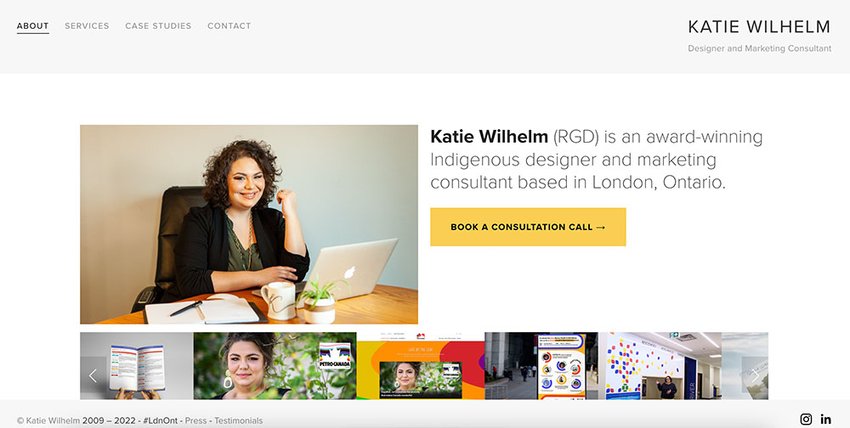 Nungala Creative
As a 100% Aboriginal-owned and operated creative communications agency, Nungala Creative produces bold, creative content with a distinct Aboriginal voice.
Established by proud Warumungu / Wombaya woman Jessica Johnson, Nungala designs for a wide array of platforms, including print, product, animation, illustration, social, broadcast, and brand development.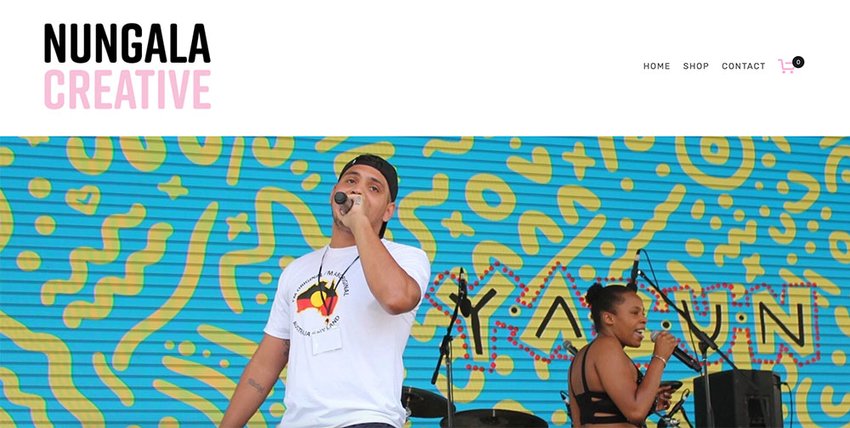 Joshua Hunt
An Indigenous Graphic Designer based in Manitoba, Canada, Joshua Hunt combines traditional colors and motifs with modern design elements. His work includes design for the annual Winnipeg Aboriginal Film Festival (pictured) which celebrates Indigenous achievement within the film industry.
Ingeous Studios
Ingeous Studies is an Aboriginal and Torres Strait Islander design and digital creative agency with 25 years of experience in the creative industries, specializing in Indigenous graphic design. Their work includes web design for Marrawah Law, Australia's leading Indigenous legal firm.
Kay Big Knife Design
A Chippewa Cree creative, Big Knife specializes in graphic design and illustration. She explains that she threads the Rocky Boy Indian Reservation landscape, the Cree language, tribal stories, and Chippewa (Ojibwe) blossoms. Her signature design is bold, precise linework and vibrant palettes.
Animikii
Based in Victoria, Canada, Animikii is an Indigenous-owned technology company that works with leading Indigenous-focused organizations from all industries to drive positive change through technology. Their work (pictured) includes developing a subdomain for BC Museums Association – Indigenous Resources.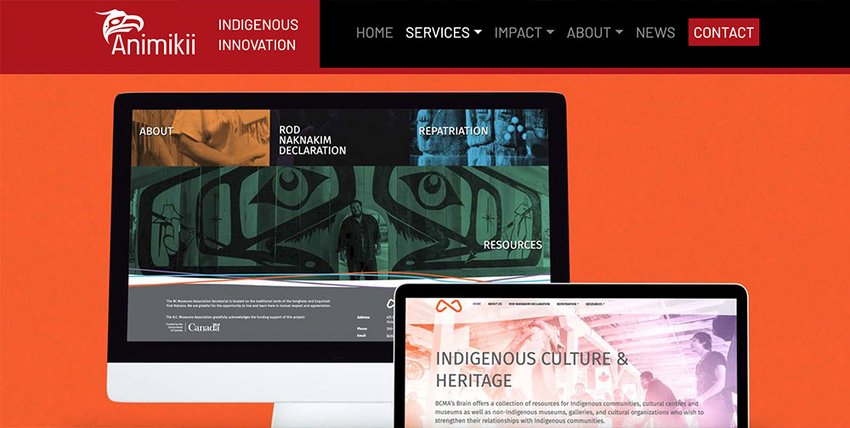 Head over to the Envato Foundation to learn more about how we support and partner with indigenous charities and organizations.