Offering discounts on your online store's products is a great business strategy for increasing sales and profits!
With the help of some of the top WooCommerce coupon plugins on Envato Elements and CodeCanyon you can integrate discount coupons into your online store.
Before we look at the best review plugins, let's talk about Envato Elements and how your subscription will benefit you!
What Is Envato Elements?
As a developer or designer, you want to focus on great design, not worry about adding credits or managing download limits. That's why it's important to have unlimited digital assets under one roof and for one low monthly price.
This is where Envato Elements comes in!
Envato Elements gives you an unlimited creative subscription to consistently high-quality and unique assets for your projects under one simple commercial license for all content.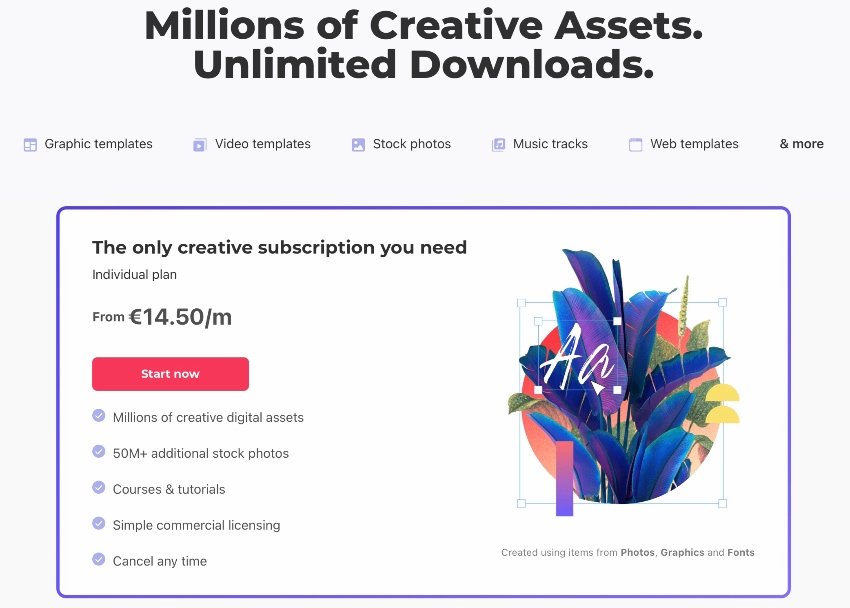 So What Do You Get With Your Subscription?
Unlimited downloads of 54+ million creative assets under one no-strings-attached subscription covered by a lifetime commercial license.
You also gain access to all the courses on Envato Tuts+.
Create with confidence! Get Envato Elements now and gain access to millions of creative assets that you can download without any limitations.
WooCommerce Coupon Plugins on Envato Elements 
1. Discount Coupons for Elementor

This lightweght plugin allows you to create coupons directly on the Elementor editor. There are two ways you can create coupons using the plugin: in the widget settings or by using certain post categories. Visitors can click and copy the coupon code to apply to their purchases.
There are coupon layouts to help you create attractive coupons. The templates are easy to customize for color, typography, background color, border, margins, or padding.  You can even apply CSS filters.
Notable features include: 
customizable columns number for different devices

works smoothly with all WordPress themes built using Elementor

SEO-optimized

translation-ready and RTL support

works on all modern browsers 
This plugin is available on Envato Elements. 
2. CouponHut: Coupons and Deals Theme

CouponHut is not a plugin. It's a theme for creating deals or discounts websites. The theme works across a wide range of devices and modern browsers. It comes a drag-and-drop builder, custom widgets and a rating system.
Your coupons can be based on: percentage discounts, time-triggered discount, and offer expiries. Since coupons and deals websites attract lots of visitors you can take advantage of high traffic and generate ad income using dedicated ad blocks. 
Notable features include
rating system

10 pre-built pages

10 custom widgets for deals, categories, search, filters, etc.

hundreds of Google Fonts and thousands of Iconsmind premium icons 

membership registration 

shortcodes 

Compatible with WooCommerce 
This theme is available on Envato Elements. 
3. Cheapest and Most Expensive Product Promotions

With this plugin you can create promotions that apply discount percentages to the most expensive or the cheapest item on the shopping cart. The promotion is applied depending on the cart total or specific products on the cart. 
The admin chooses products to apply discounts to. When the plugin detects one of these pre-selected products on the cart, it will apply the discount. Only one promotion is applied on the cart.
You can restrict promotions according to user role. You can also choose not to use the promotion if any coupon has been applied to the cart. 
The plugin is translation ready and compatible with WPML. 
4. WooCommerce Pre-sale, Time Offer, and Expiring System

With this plugin you can create urgency with time-based  offers and coupon expiries. You choose products and assign them a special price during a selected period. This could be the pre-sale period, special offer weekend, seasonal offer and so on. 
Wit this plugin you can do the following
set the end date or expiry dates

create a threshold goal that once reached products go back to original prices

let customers deposit an amount for a product and pay the rest during presale

display old prices with a line through

make products visible but cannot be bought before the presale period
To learn what else you can do with this plugin check out this link and subscribe for Envato Elements. 
WooCommerce Coupon Plugins on CodeCanyon
5. WooCommerce Coupon Box

Give visitors an incentive for visitors to subscribe to your email newsletter. The best way is to offer coupons. This is where WooCommerce Coupon Box comes in! 
This is how it works: When a visitor is on your website, a popup box appears with a discount offers in exchange for their subscription. You can schedule for the popup to appear again if a users skips it. You can also the popup on your homepage.
Once they signup the plugin can send discount coupons to subscribers. You can use existing coupons or the plugin can generate unique coupon.
Emails of all you subscribers can be synced synced with your MailChimp, Active Campaign, SendGrid account.
Some design features include: 
four templates with four different element arrangement ways.

Display welcome, congratulation, thankyou-message.

GDPR Checkbox: display a checkbox allows customers to agree with your site policy, terms of use.

six different icon styles for the close button, size, position.

configure the header style with title and background, eveb use images as your background

configure the coupon box body style with text font, background image.

Display your social network on the Coupon Box pop-up.

Design your subscribe button with text, text colour, and background colour.

add your own custom CSS code to change the front-end as you want.
6. WooCommerce PDF Vouchers: WordPress Coupon Plugin

With WooCommerce PDF Vouchers, you can create PDF vouchers that customers can redeem not only online but also in person. These vouchers can be given as gifts, rewards, promotions, event tickets, or however you see fit for your business.
Here are the core features of this WooCommerce plugin:
gift voucher creation

price variation 

automatic coupon generation

offline gift voucher

import codes via CSV

export reports as PDF & CSV
This powerful WooCommerce coupon plugin also features powerful admin and reporting tools that help you keep track of the voucher tools available.
If you want to connect your online store with your on-the-ground business, then this is the WooCommerce coupon plugin for you! You can try out a live demo of the front-end and a demo of the back-end online. 
7. WordPress and WooCommerce Affiliate Program Plugin

With this premium rewards plugin WooCommerce option, you won't need to look for WooCommerce rewards plugin free files.
This affiliate marketing plugin helps you market your products through an affiliate team. This is a top rewards plugin WooCommerce option to have on hand. Easily run an affiliate system on your website with this plugin.
This rewards plugin WooCommerce download promises to:
increase your site's visibility on search engines

increase sales in your WooCommerce store

market your products through different social media platforms
8. Coupon Wheel For WooCommerce and WordPress

Engage customers by giving them a chance to win a coupon by spinning a fortune wheel. Then issue a unique WooCommerce coupon code, display coupons immediately, or send them by mail. Coupons may be time-restricted with a timer countdown to encourage engagement, collect data (email, first name, last name), subscribe customers to Mailchimp lists, and much more.
Coupon Wheel provides the most advanced gamification popup coupon solution for WooCommerce and WordPress. 
Free WooCommerce Coupon Plugins
You've seen the best premium WooCommerce coupon generator plugins from CodeCanyon. While these WooCommerce coupon popups offer you many advantages, it's not always possible to invest in premium plugins.
If you're just starting your online store, you might be looking for free WooCommerce coupon plugins to gain more clients. If that's the case, here's a selection of top free WooCommerce coupon plugins from the official WordPress website.
1. Smart Coupons for WooCommerce

The Smart Coupons for WooCommerce plugin adds advanced options to the default WooCommerce coupons. This free WooCommerce coupon plugin lets you create a variety of coupon restrictions, apply coupons automatically, run giveaway offers, easily manage coupons, and more.
2. Advanced Coupons for WooCommerce Coupons

The free WooCommerce coupon plugin gives you extra features on your coupons so they can market your store better. This WooCommerce coupon popup lets you:
run WooCommerce "buy one, get one" (BOGO) deals with a new BOGO coupon type

protect against accidental discount usage with cart conditions (coupon rules)

organize your WooCommerce coupons with coupon categories

apply coupons with a URL
Create Top Coupons With WooCommerce Coupon Plugins Today
Increasing the traffic and sales of your online store should be a priority for your online business. By implementing the WooCommerce coupon generator plugins reviewed here in your online store, you will be able to reach your traffic and sales goals more efficiently. 
For more helpful tools to add to your WooCommerce store, view some of the best-selling WooCommerce plugins available on CodeCanyon. Looking for more WooCommerce tutorials and resources? We've got these for you:
Editorial Note: This post has been updated with contributions from Maria Villanueva and Franc Lucas. Maria is the Associate Editor of the Tuts+ Design channel. Franc is a writer for Envato Tuts+ who enjoys exploring the world of SaaS.